Mark Wahlberg, the well-known Hollywood actor has starred in huge hits such as The Departed, Ted, The Fighter and Daddy's Home. The fitness fanatic and entrepreneur has also had great success as a TV producer with series like Entourage and Ballers, and even made it briefly as rapper 'Marky Mark' in a former life. However, we at Bezel Brothers are most interested in Mark Wahlberg's vast watch collection. In fact, his collection of watches is so impressive that the business of buying, maintaining and wearing his watches is almost another profession in itself! Mark Wahlberg is regularly noted by celebrity watch spotters for his collection of luxury timepieces but without a doubt, Rolex and Patek Philippe are the apples of his watch-centred eye. In this blog, we round up a few our favourites.
It is estimated that the American actor has at least twenty Rolex watches in his possession. An avid fan of the Rolex Daytona, Wahlberg owns at least seven of these watches. He was recently spotted wearing an 18K Yellow Gold Rolex Daytona Factory set with 36 Trapeze-Cut diamonds around the bezel and diamonds running through the bracelet. That is a lot of bling and certainly very eye-catching! The watch is estimated to be worth over €500,000.
An iconic piece and very popular in the celebrity world, the Rolex Rainbow Daytona is a regular sight on Wahlberg's wrist. The multi-coloured bezel on this watch has a love/hate relationship with Rolex fans, but for Mark Wahlberg, there is no doubt about his devotion to this watch. He owns it in three metal variations: Everose Gold, Yellow Gold AND White Gold. The watch has 36 baguette-cut rainbow coloured sapphires on the bezel and 11 baguette-cut diamonds as it's hour makers with the embellishments and dial colours or styles varying in different models. One things for sure, the actor certainly prefers an 'iced' watch style. Often encrusted with diamonds or sapphires, Wahlberg's Rolex watches cost a pretty penny in precious gems alone.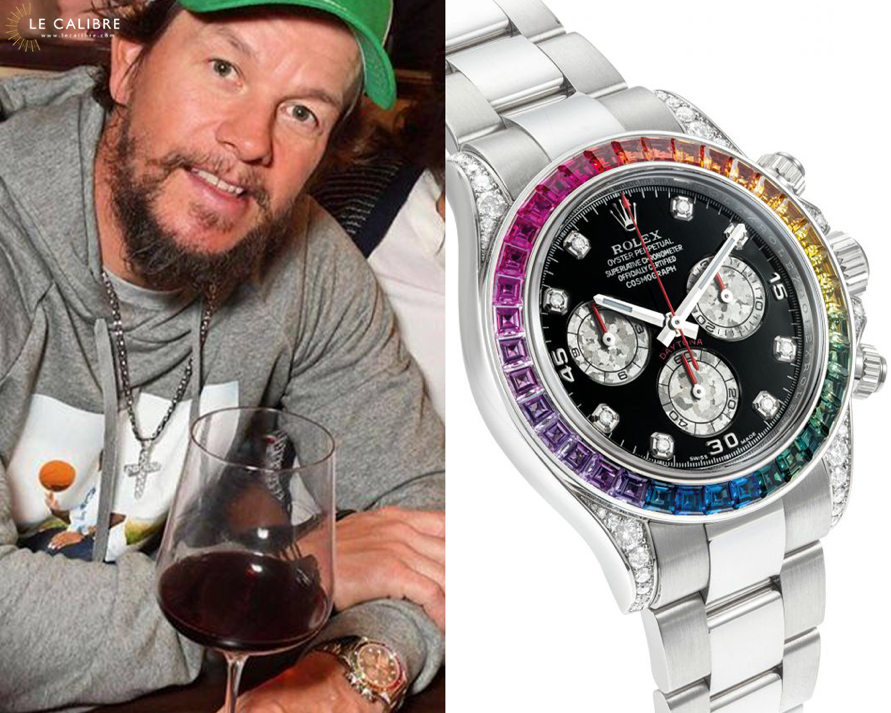 Of course, any Rolex fan is bound to own a Submariner or two and Wahlberg is no different, owning at least four of the model! Our personal favourites are the yellow gold models, which are the 116616LB with a black dial and black bezel and the 116618LN with a blue dial and blue bezel. Mark also owns a Rolex Pearlmaster, with a couple of Day-Dates, Yachtmasters and GMT-Master models thrown in to the mix. Are you jealous yet?!
Patek Philippe is the other Swiss watch brand that Mark Wahlberg seems to have a love affair with. The watch giant has only grown in popularity and price in recent years but this doesn't deter Boston native, Mark Wahlberg. Naturally, several Nautilus models feature in his collection, at least six in fact. At Bezel Brothers we are torn between the extreme extravagance of the white gold 5719/10G model which is entirely encrusted with baguette-cut and brilliant-cut diamonds on the dial, the case and the strap. And the exquisitely stylish 5726-1A-014 model in steel with a sapphire back and a distinctive stamped relief dial in dark blue.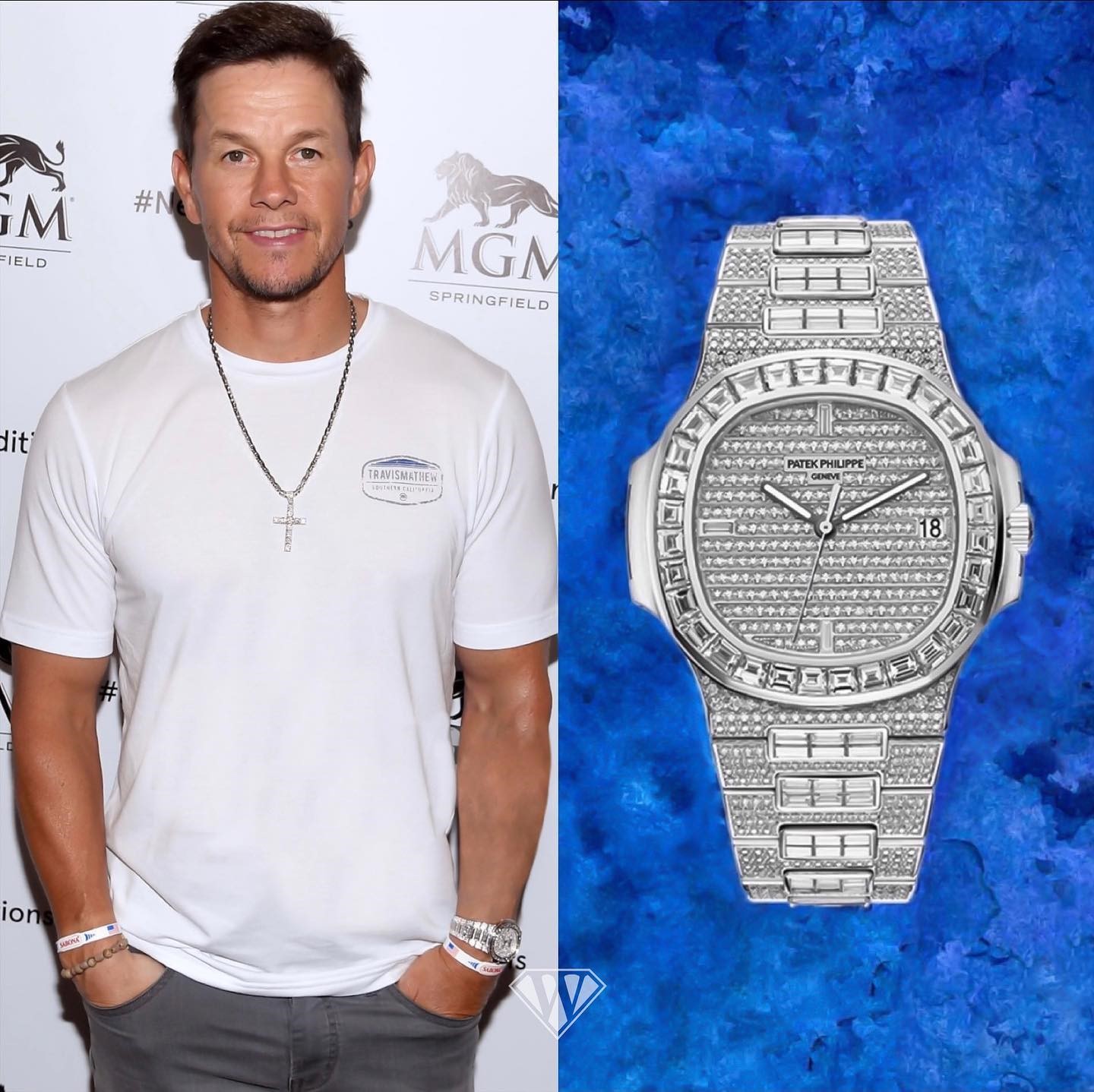 And last, but certainly not least, Mark Wahlberg showcases his love and appreciation of fine watch-making through his ownership of the Patek Philippe 5207G. This model is the only one from Patek to house all three complications – a perpetual calendar complication, a tourbillon and a minute repeater. The 5207G has a 41mm white gold case, a sober blue dial and strap and is worth a whopping €800,000.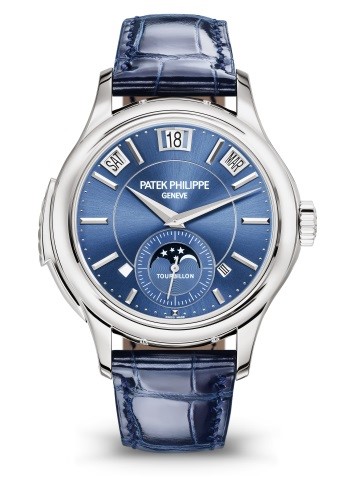 Needless to say, in terms of quantity and value, Mark Wahlberg certainly impresses us with his collection of luxury timepieces. But how much is his collection worth? Experts believe that his watches are worth in excess of €7million. With the every fluctuating watch market, this could change from week to week but all the same, it's very substantial. At Bezel Brothers, we love watching Mark's collection grow and to see what he goes for next. But we can't help but wonder if he is going to venture out and invest in something a bit more edgy or out of his comfort zone? Vintage watches don't seem to be his thing. We're surprised we don't see at least an Audemars Piguet or Vacherin Constantin in his possession. What do you make of Wahlberg's watches? Who's collection of watches would you like to read about next?
Remember, if you are interested in starting your own luxury watch collection, then Bezel Brother's is the world's newest marketplace where you can buy, sell or auction a wide range of watch brands. Sign up and register with us for FREE, today.